French Aroma Massage in Ajman UAE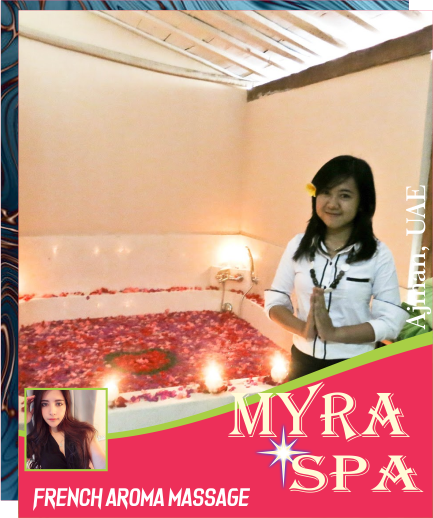 French Aroma Massage
Inspired by the science of Aromatherapy, this gentle treatment combines that senses of touch and smell with the use of essential oils extracted from a variety of organically grown plants and flowers.

Aroma Therapy Massage in Ajman, UAE relaxes the body by calming the skin and nerve endings. Aroma Body massage in Ajman, UAE is also called as French Aroma Massage. Myra Spa Ajman, UAE is well equipped with well trained, experienced and hospitable staff team to provide Aroma Body Massage in Ajman.

Aroma therapy massage is a best massage for those who are looking forward a relaxing massage with essential oils. Aroma therapy massage is a gentle massage which can be done on any age and gender. This massage combines the gentleness of touch therapy and the Aromatherapy.

Aroma therapy oils are carefully chosen according the concern and the mental status of the receiver. Aroma therapy massage can be relaxing, pampering, uplifting and refreshing depend upon the oil blend used for the massage.Aroma therapy massage is not only relaxing but also is great for ones skin. The essential oils and carrier oils penetrate deep into skin layers and work best for skin conditions.